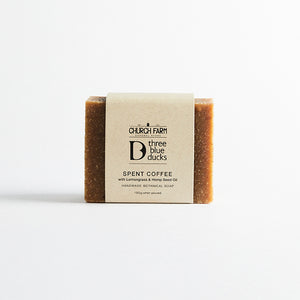 We teamed up with our mates at the Three Blue Ducks to collect their spent coffee grounds from their café at The Farm in Byron Bay, and then we turned them into soap!

Not only are we making good use of an otherwise waste product, the coffee grounds also act as a natural exfoliant. This bar also contains hemp seed oil to keep it ultra-moisturising and lemongrass essential oil which adds a fresh uplifting lemon scent.
Ingredients: Australian Extra Virgin Olive Oil, Cold Pressed Coconut Oil, Water, Lye, Spent Coffee Grounds, Hemp Seed Oil, Lemongrass Essential Oil. 


Note: As each bar is handcut the shape and appearance may differ from what is shown in the picture, however all bars weigh approx 180g.
For longer lasting soap, please keep your bars dry and in a well drained position in-between uses and away from direct streams of running water.